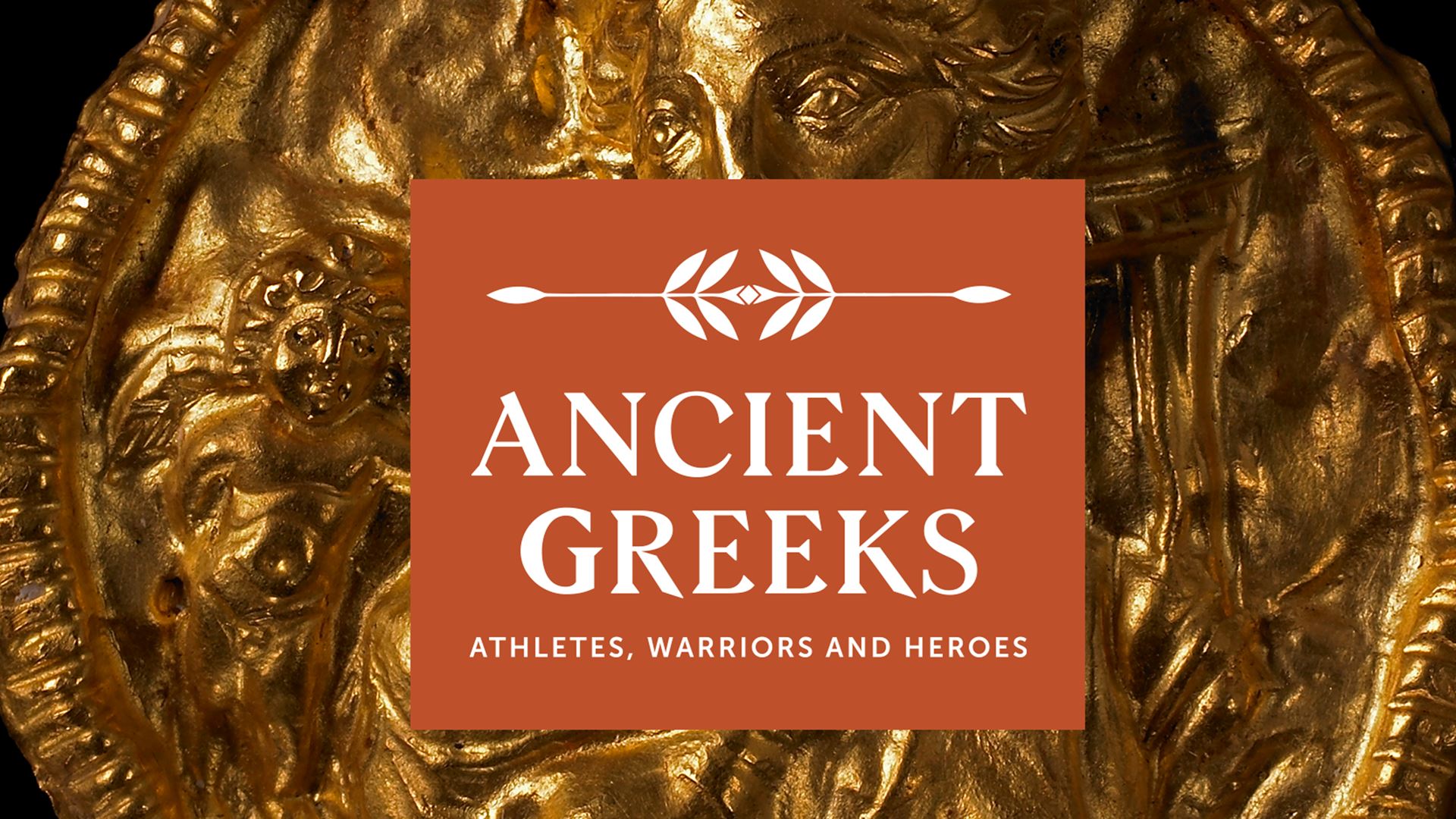 Ancient Greeks: Athletes, Warriors and Heroes
20 June – 7 November 2021
ABOUT THE EVENT
A captivating exhibition filled with some of the finest examples of Greek sculpture, armour, jewellery, vases and ancient sporting artefacts.
From the sporting triumphs of the original Olympians to the conquests of Alexander the Great and the epic tales of Homer, Greek history is filled with the glorious deeds of athletes, warriors and heroes.
The Ancient Greeks were renowned for their competitive spirit. It famously flourished in sporting and battle arenas but also in the performing arts, with contests in music, drama, sculpture and painting.
Underpinning the quest for glory and honour was an emphasis on excellence. Physical training sculpted the body that would achieve sporting or military victory. Education, philosophy, science and the visual arts were equally important, shaping and sharpening the mind. 
Although competition could be a destructive force, it was also positive and unifying. It was a thread that ran through daily life, generating a rich and innovative society that endures in the artefacts and stories that survive today.
Opening on Sunday 20 June, Ancient Greeks: Athletes, Warriors and Heroes is WA Museum Boola Bardip's first major international exhibition.
This exhibition displays one of the largest selections of Greek artefacts loaned by the British Museum with materials ranging in age from the sixth to first centuries BCE.
For many of the 178 artefacts drawn from present-day Greece, Turkey, Italy, Spain, Egypt and Libya, it will be the first time they are toured to the Southern Hemisphere.
This once-in-a-lifetime exhibition brings to life the Ancient Greek world and vibrantly showcases the important role competition played within it.
Exhibition is ticketed | Entry to the Museum is free.
For more information click here.
---
The presentation of this exhibition is a collaboration between the British Museum, the Western Australian Museum, the National Museum of Australia and the Auckland War Memorial and Museum.
Buy tickets
Tuesday, 21 September 2021

Wednesday, 22 September 2021

Thursday, 23 September 2021

Friday, 24 September 2021

Saturday, 25 September 2021

Sunday, 26 September 2021

Monday, 27 September 2021

Tuesday, 28 September 2021

Wednesday, 29 September 2021

Thursday, 30 September 2021

Friday, 01 October 2021

Saturday, 02 October 2021

Sunday, 03 October 2021

Monday, 04 October 2021

Tuesday, 05 October 2021

Wednesday, 06 October 2021

Thursday, 07 October 2021

Friday, 08 October 2021

Saturday, 09 October 2021

Sunday, 10 October 2021

Monday, 11 October 2021

Tuesday, 12 October 2021

Wednesday, 13 October 2021

Thursday, 14 October 2021

Friday, 15 October 2021

Saturday, 16 October 2021

Sunday, 17 October 2021

Monday, 18 October 2021

Tuesday, 19 October 2021

Wednesday, 20 October 2021

Thursday, 21 October 2021

Friday, 22 October 2021

Saturday, 23 October 2021

Sunday, 24 October 2021

Monday, 25 October 2021

Tuesday, 26 October 2021

Wednesday, 27 October 2021

Thursday, 28 October 2021

Friday, 29 October 2021

Saturday, 30 October 2021

Sunday, 31 October 2021

Monday, 01 November 2021

Tuesday, 02 November 2021

Wednesday, 03 November 2021

Thursday, 04 November 2021

Friday, 05 November 2021

Saturday, 06 November 2021

Sunday, 07 November 2021