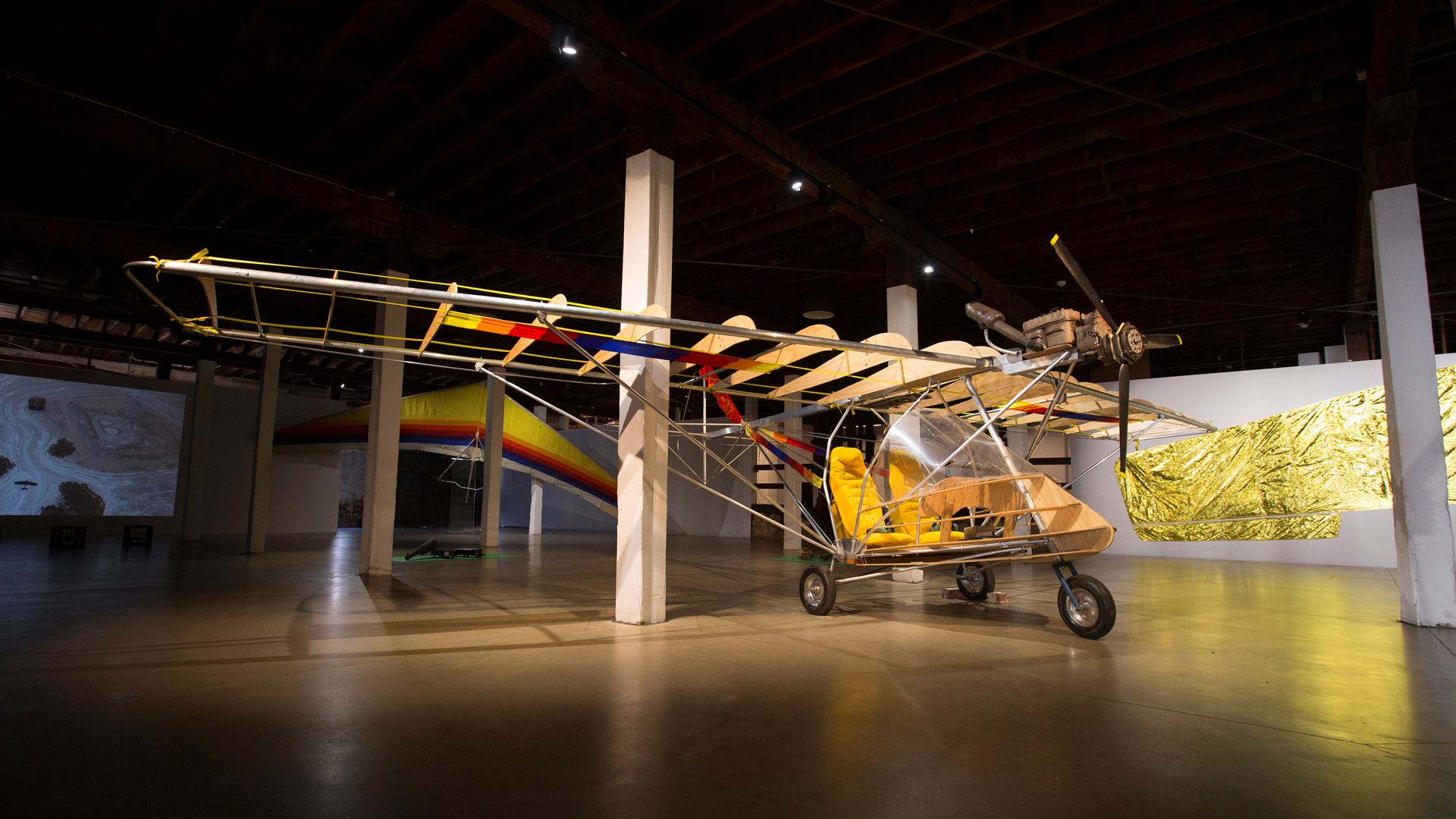 Sky Cave
22 October 2021 - 9 January 2022
ABOUT THE EVENT
Amy Perejuan-Capone
Presented as part of the Indian Ocean Craft Triennial
Conceived for the central gallery space at PICA, Amy Perejuan-Capone presents a new body of work including sculpture, video and installation, using the dramatic height of the gallery for the presentation of historical hang gliders. Sky Cave continues Perejuan-Capone's excavations of the family archives documenting an ever-present pursuit of flight. Recent projects have developed through collaboration with her father, an amateur aviator for nearly 50 years. Sky Cave builds on her parents' pioneering contribution to the sport to examine the complexity of family narratives and relationship to place, and the transference of skill, memory and points of connection across generations.
Perejuan-Capone's practice is underpinned by an enquiry into the systems of exchange that are present through the acquisition and application of craft. Across broad mediums including ceramics, textiles and metalworks, she seeks to understand objects, materials and the networks of social and cultural agency held within them. Present in her work, which often take form as large scale sculptural installations, are the interconnected systems of environment, production, labour and personal and social histories.
For more information click here.
Friday, 22 October 2021

Saturday, 23 October 2021

Sunday, 24 October 2021

Tuesday, 26 October 2021

Wednesday, 27 October 2021

Thursday, 28 October 2021

Friday, 29 October 2021

Saturday, 30 October 2021

Sunday, 31 October 2021

Tuesday, 02 November 2021

Wednesday, 03 November 2021

Thursday, 04 November 2021

Friday, 05 November 2021

Saturday, 06 November 2021

Sunday, 07 November 2021

Tuesday, 09 November 2021

Wednesday, 10 November 2021

Thursday, 11 November 2021

Friday, 12 November 2021

Saturday, 13 November 2021

Sunday, 14 November 2021

Tuesday, 16 November 2021

Wednesday, 17 November 2021

Thursday, 18 November 2021

Friday, 19 November 2021

Saturday, 20 November 2021

Sunday, 21 November 2021

Tuesday, 23 November 2021

Wednesday, 24 November 2021

Thursday, 25 November 2021

Friday, 26 November 2021

Saturday, 27 November 2021

Sunday, 28 November 2021

Tuesday, 30 November 2021

Wednesday, 01 December 2021

Thursday, 02 December 2021

Friday, 03 December 2021

Saturday, 04 December 2021

Sunday, 05 December 2021

Tuesday, 07 December 2021

Wednesday, 08 December 2021

Thursday, 09 December 2021

Friday, 10 December 2021

Saturday, 11 December 2021

Sunday, 12 December 2021

Tuesday, 14 December 2021

Wednesday, 15 December 2021

Thursday, 16 December 2021

Friday, 17 December 2021

Saturday, 18 December 2021

Sunday, 19 December 2021

Tuesday, 21 December 2021

Wednesday, 22 December 2021

Thursday, 23 December 2021

Friday, 24 December 2021

Tuesday, 28 December 2021

Wednesday, 29 December 2021

Thursday, 30 December 2021

Sunday, 02 January 2022

Tuesday, 04 January 2022

Thursday, 06 January 2022

Friday, 07 January 2022

Saturday, 08 January 2022

Sunday, 09 January 2022